Services
REPAIR OR FABRICATION
TEAK DECK REPLACEMENT
RUB RAILS * TOE RAILS
BULKHEAD REPAIR/REFIT
FINE CABINETRY
WOOD HULL PLANKING/CAULKING
WOOD SPAR CONSTRUCTION
NEW BOAT CONSTRUCTION
CLASSIC BOAT RESTORATION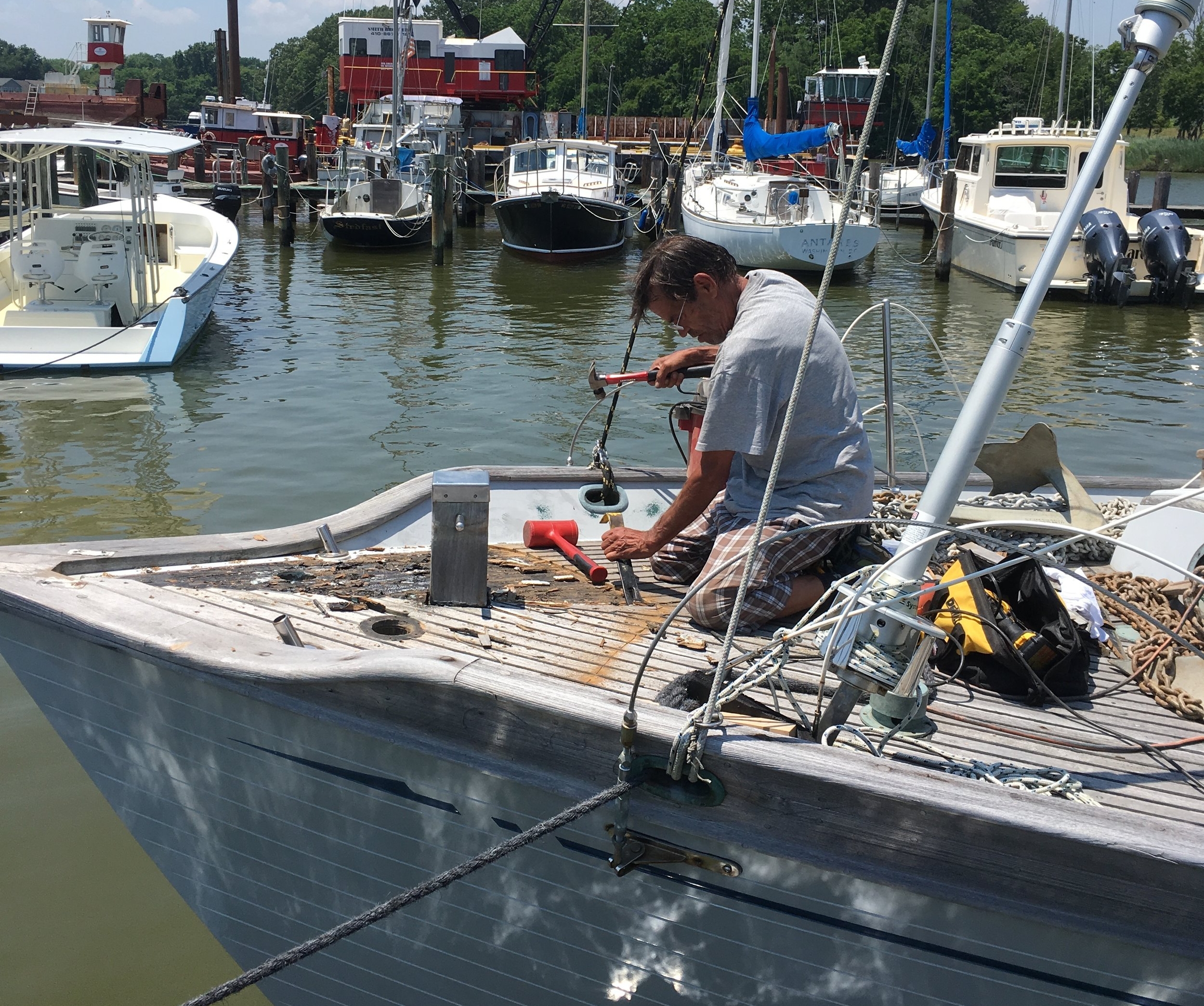 Peter Bell
Master Carpenter, 1990 - present
Pete grew up in Montgomery County and began cruising and racing with his family at an early age. He, together with his parents, were competitive sailors and his interest in sailing and racing has never diminished.
Pete attended the University of Maryland, Anne Arundel Community College and Colleges in Florida. He worked in Connecticut boatyards and for a boat builder in Florida before joining the Hartge team in 1990.
Pete is one of the stars of the boatyard in knowledge, experie3nce and skill in most every form of boat construction. It's difficult to find something he lacks knowledge in.
Pete races keel boats, dinghies (owning three Chesapeake 20's), wind surfs, skateboards, mountain bikes, snowboards, and plays guitar in the West River Band. Pete has much respect from the Chesapeake 20 class for leading a team of fellow employees and friends in building about eight Chesapeake 20's that has helped to keep the class alive.
Ernie Stuermer
Master Carpenter, 2012 - present
His early years were spent in Hawaii before his family relocated to Annapolis in his teens. Between the age of 17 and 21, Ernie sailed around the world with his family aboard their 65' gaff-rigged ketch, STARBOUND, and for a second time around when he was 25 to 29. Between circumnavigations, Ernie earned a degree in Natural Science from St. Mary's College.
Ernie's impeccable talent as a master carpenter is largely self-taught. At 16, he constructed a Penguin and from there, developed his skills to become an exceptional master carpenter with an innate talent for cutting and fitting wood perfectly (on the first cut!).
Ernie's knowledge and interests are wide ranging: from raising orchids, performing in medieval re-enactments, sailing square rigged ships, to an understanding of our world of chemicals and the products we use.
Mark Haritan

Carpenter & Fiberglass, 2018 - present

Mark joined HYY in June 2018. He grew up in Bowie and attended the University of Maryland. After college, he ran a surveying crew and then worked at Annapolis Performance Sail Craft, building Gemini Catamarans. He worked in whichever department needed including fiberglass, electrical, and woodworking. After the business was sold, he moved into carpentry at Anchor Yacht Basin and custom woodworking on Fleming Trawlers at Burr Yacht Sales.

Quiet, confident, diligent, and positive, Mark is a fine addition to the Carpenter Department at HYY.